Predictive Maintenance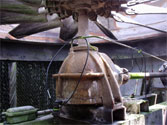 Gearbox accel monitoring (HELP)
The primary objective of a predictive maintenance program is to improve machinery reliability by identifying problems before they cause failures. The secondary objective is to provide advance warning of developing problems before these machines fail catastrophically during a production run. Helping your machinery operate better, spotting a problem before it shuts you down, preventing secondary damage, improving product quality, reducing unnecessary maintenance, reducing downtime – that's predictive maintenance!
Mid-America Dynamics engineers have been in the predictive maintenance business since the 1980s. We have supported predictive maintenance programs in industries such as power, paper, steel, food processing, and chemical.
At Mid-America Dynamics, we believe that an optimum predictive maintenance program includes a number of technologies such as vibration analysis, lube oil analysis, infrared thermography, and electrical motor testing. We provide services to meet our clients' needs ranging from short term PdM program jump starts to comprehensive multi-technology turnkey programs. We work with our customers to ensure the success of a predictive maintenance program with up-to-date instrumentation, expert analysis, timely reporting, and excellent program documentation.
Mid-America Dynamics offers the following Predictive Maintenance Program (PM) services:
Complete program operation including data collection, analysis, and reporting
Off-site data analysis via the internet or fax
Instrumentation recommendations and installation
Turnkey operations
PM program "jump starts"
Hover over each image for more information: